Short Term Rehabilitation
Leading the path to healing, our specialized therapist and nursing department work closely together to develop a plan based on the individual needs of each patient. Our therapy team is passionate about bringing the latest programs and techniques to our patients.
Professional, Individualized Care

Our professionals utilize therapy modalities combined with a comprehensive therapy program for strengthening, balance training, pain reduction, wound healing, and increasing range of motion. Our Speech Pathologist incorporates swallowing, language, and cognitive procedures to meet the needs of our patients.
Rehabilitation involves not only the patient but the entire family. When the goal is to return home, the patient's prior level of function is a key element that our social services and nursing staff strive to obtain upon admission to ensure a safe transition back to home.
Privacy for Patients and Families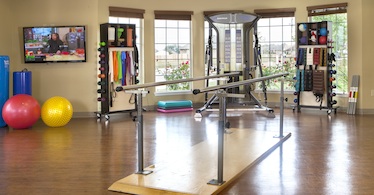 Our 45 bed unit is specially designed to provide a hotel-like environment in a healing atmosphere to meet each individual's needs. A private entrance for patients and families to our short term rehabilitation unit as well as a private dining area and bistro area provides the best environment for healing.
Patients receive Physical Therapy, Occupational Therapy, and Speech Therapy Services 5-6 days per week.
How Can We Help?
Contact us today if you have questions about rehabilitation services or to arrange a private tour of our facilities.